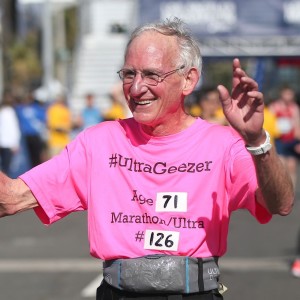 Monday Nov 30, 2020
Mile #18- Gene Dykes-World Marathon Record (unofficially) of 2:54:23 at Age 70
Today I am honored to be joined by Marathoner and Ultra Runner Gene Dykes for mile #18. Gene has such an impressive resume.
His philosophy: "Just Run"
"I never stretch, never do flexibility exercises…No weightlifting, no strength, no core, no cross training, no special diet."
2:54:23 - his fastest marathon time (age 70)
That is a per-mile pace of 6:39. He ran it at the Jacksonville Marathon on Dec. 15, 2018
I encourage you to check out his website www.ultrageezer.com.   
With the assist of his daughter he has set up a great timeline of the amazing things he has been doing. 
What is hard for me to believe is that he never thought he was any good at running and to hear that his racing career did not start until age 56.  To the outside observer one may take a look at all his accomplishments and think he is fortunate to have great genetics.  Surprisingly, he feels all those years of just running and not racing has allowed him stay fresh and healthy.  You will soon find out he has put the extensive work that is necessary to attain the accolades that he has so rightfully deserved.  His "Just Run" philosophy provides the foundation and his willingness to never miss or cut back on a workout his coach prescribes has helped him attain some pretty remarkable feats as he has aged.  I can promise that if I can look at training and racing with the same "have Fun viewpoint". Who know what I can accomplish!! 
I hope you enjoy todays conversation as much as I did.